Trade of the Month January 2023
Barrick Gold vs. Southern Copper
+$726 and 18% Return on $4,000 Margin in 5 Market Days
(based on 5:1 CFD margin)
Learn a proven trading strategy that is viable in all market conditions and is backed up by decades of academic research and real-world application…stock pair trading! WATCH OUR VIDEO of pro pair trader Pedro Alonso as he takes you through this month's selected stock pair trade analysis. This live signal is from the automated pair trading signals of our November FAST 50 U.S. Equities Pairs: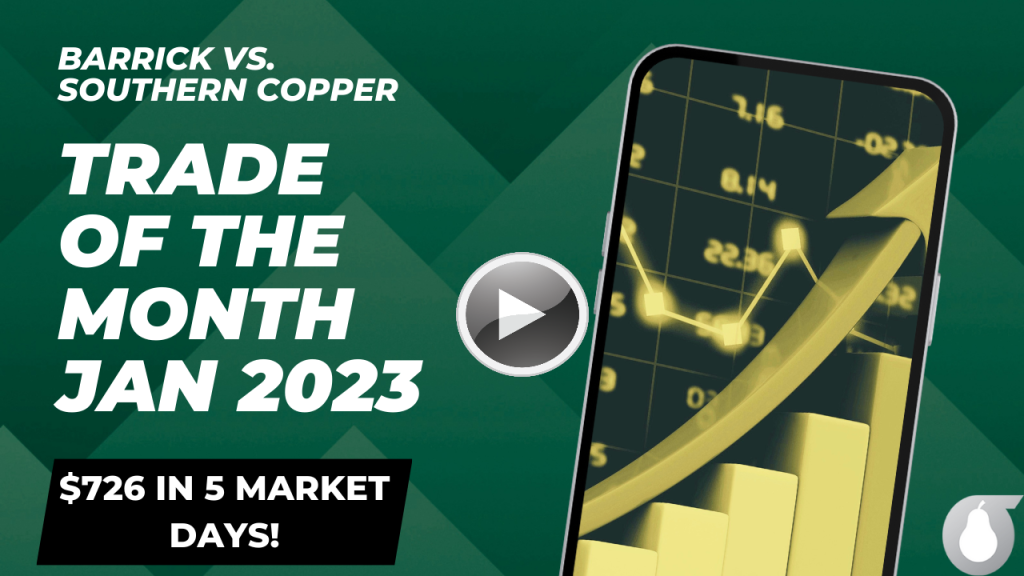 Don´t Have Time to Backtest and Filter? Let Us Do It for You
At PairTrade Finder® we analyse over 2,200 U.S. equities to find you the best USA stock pairs to trade – we do all the hard work for you! We update this analysis on a quarterly basis to ensure these pairs stay fresh and their correlations and cointegrations strong to offer you the highest-probability setups.
Then, with these great pairs pre-loaded into your 24/7 market radar Watchlist, you will receive automated pair trading signals directly on-screen and by email. You can then semi-autotrade these signals directly into Interactive Brokers' Trader Workstation® for easy execution, or just use the emails received to execute the trades through any broker you prefer.
You can review our stock backtest parameters and pair filtering criteria are here.
Get Started with Automated Pair Trading Signals Today!
At PairTrade Finder® we've made it our mission to teach you how to become a consistently profitable pair trader in 30 days. We (and over 7,000 others) are convinced we have the platform, the educational materials and a proven trading strategy to get you there.
Join today for a free trial and immediate high-probability pair trading signals!
Happy trading!
The PairTrade Finder® Team
NB: The FAST 50 example pair trades in PairTrade Finder® PRO and the trading signals generated therefrom are provided for informational and educational purposes only. They should not be construed as personalised investment advice. It should not be assumed that trading using the parameters demonstrated by the Software will be profitable and will not result in losses. Please see our full Terms & Disclaimer here.