We Find You the Best Pairs to Trade.
Looking to turbo-boost your share trading with the best pairs to trade?  We are pleased to announce the release of our newest FEBRUARY VINTAGE FAST 50 U.S. EQUITIES PAIRS and a FEBRUARY SUPER SALE to go with them.  Backtesting at a 6.6% imputed monthly return and over 100% p.a. return. (Based on 5:1 leverage).
Watch our video
on what these FAST 50 and PairTrade Finder PRO can do for you today: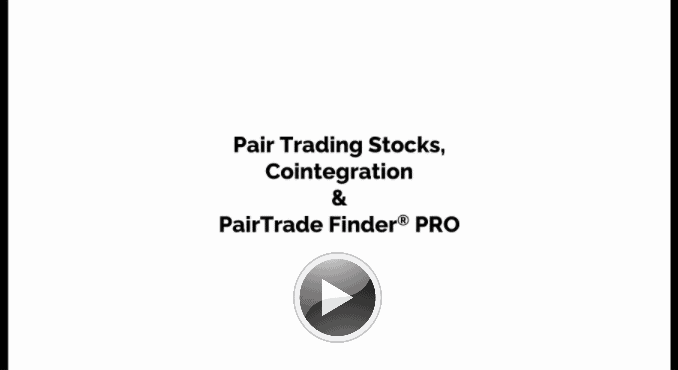 PairTrade Finder®'s FAST 50 U.S. Equities Pairs & High-Probability Pair Trading Signals for Review
We do the heavy lifting for you with our latest February 2022 Vintage of our FAST 50 U.S. Equities Pairs!
We analysed over 2,200 U.S. equities to find you some of the best stock pairs to trade! We update this analysis on a quarterly basis to ensure these pairs stay fresh and their correlations and cointegrations strong to offer you the highest-probability setups. The new FAST 50 must meet strict profitability and robustness measures as follows:
USA Exchange-traded (NYSE/NASDAQ/AMEX): > than $2 bln mkt cap, > $2 million/day of average daily traded volume($), easy-to-borrow
Similar fundamentals: same national market, same sector, usually same industry sub group. Preference for beta-similar, market-cap-similar pairs
Backtested with a +/-2.7 standard deviation Entry Stretch, +/-1.0 standard deviation Exit Stretch on the Core Ratio of the pair's share prices
Two-year backtest period, Stretch & Ratio Moving Average set to 60-day lookbacks
COINTEGRATION: We use the Augmented Dicky Fuller test for cointegration and we generally select only pairs with a p-value of 0.10 or less over the 2-year period (see Wild Cards below)
AVG. CORRELATION: of minimum of approx. 50%, preferably higher over the two-year period. Lower correlation can be tolerated if pair is strongly cointegrated and scores highly on all other criteria, or for our WILD CARD pairs
Minimum Average Profit per Trade of $200, preferably $250+ (based on $5,000/leg)
Compound Annual Growth Rate of Net Profits for each pair preferably in excess of Maximum Drawdown % i.e. positive reward/risk
Maximum historic drawdown < 20%, preferably <15% (before leverage)
Win Rate at least 70%, usually 80% plus
Maximum Days in Trade of 50 days. This setting represents our time stop. Average days per trade is around 12-15 days
WILD CARD PAIRS ADDED: we've added some pairs that don't meet our correlation and cointegration filters but that have EXCEPTIONAL looking in-sample backtests over the last two years. We call these WILD CARDS and we think they bear further study of their signals…
How Can I Get the New February Vintage FAST 50 U.S. Equity Pairs?
The latest research on cointegration-based pair trading of S&P 500 equities shows historical excess returns of up to 5% per month over a period of more than 10 years (*see research below).  Incredible.
The new FEBRUARY VINTAGE FAST 50 are all part of our trader education package designed to make you a consistently profitable pair trader in 30 days.
That's our commitment to you, and we stake our reputation on it.
In connection with the release of the new FAST 50 we have launched a six-day-only FEBRUARY SUPER SALE. Just until next Tuesday at midnight PST.
You can subscribe and receive a -40% discount over PRO's retail price of $659/year.
At just $395/year, or $1.08/day, it represents one of the lowest prices we have ever offered for a subscription to PRO v2.
And the new FILTERED FAST 50 as a gift to you (previously, these cost $249 for each vintage).
Included in your Special Offer subscription you will also receive:
Our acclaimed 4-Hour, 14-Lecture Video Training Course taught by professional pair traders
13 Tutorial Videos on the key aspects of learning the software
Updated PRO User Manual: 96 pages of step-by-step instructions
Trade Like a Hedge Fund eBook with 11 Pro Trading Tips
Trade of the Month in-depth trade entry analyses; and
Pair Trading Resources Library with articles, instructions and research on how to achieve pair trading profitability
In short, we've got it all!
Join our community today and quickly and easily learn a new lifetime skill that can serve you as a second source of income – or even a digital nomad muse.
To make sure you feel fully comfortable, we are offering a 30-Day, 100% Money-Back Guarantee for this February Super Sale.
Profit or refund. The risk is on us.
Just for 6 Days…then it is back to $659/year to get PRO v2.
To lock-in your subscription rate for life (as long as you remain paid-up) click here.
Happy Trading!
Geoff, Paul & The PairTrade Finder® Team
NB: The FAST 50 example pair trades in PairTrade Finder® PRO and the trading signals generated therefrom are provided for informational and educational purposes only. They should not be construed as personalised investment advice. It should not be assumed that trading using the parameters demonstrated by the Software will be profitable and will not result in losses. Please see our full Terms & Disclaimer here.
* Pairs trading and selection methods: is cointegration superior? , Nicolas Huck & Komivi Afawubo, 2015